'Dark Horse' Has Arrived: Devin Dawson Releases Debut Album
A few years ago, a video mashing up Taylor Swift's "Blank Space" and "Style" went absolutely viral. The video was from two singer/songwriters -- one of them being budding country artist Devin Dawson. The 28-year-old, originally from Orangevale, California released his debut single "All On Me" in February 2017, and then went out on the road with Maren Morris on her "Hero Tour."
Now, with the arrival of 2018, Devin has released his debut full-length album Dark Horse. Dawson's very first album features twelve songs, including "All on Me," and other previously released songs like "Symptoms," "Asking For A Friend," and the record's title track "Dark Horse."
On Dark Horse, Devin worked with producer Jay Joyce (Eric Church, Little Big Town, Brothers Osborne), and says of working with Jay, "He pulled things out of me, once we got the songs together, that I never knew I even had. And he stitched everything really well together, even though all the songs, each one stands alone on its own, they all have this really common thread because of his voice and his ear on it."
Devin's music is unique to the country genre, and he's influenced by many different types of genres. Having played in and toured with metal band Shadow of Colossus after high school, he tells iHeartRadio, that is "kind of like a foundation for influencing the music that [he] makes." However, Devin also grew up listening to country, soul, and R&B, which has also noticeably had an impact on him.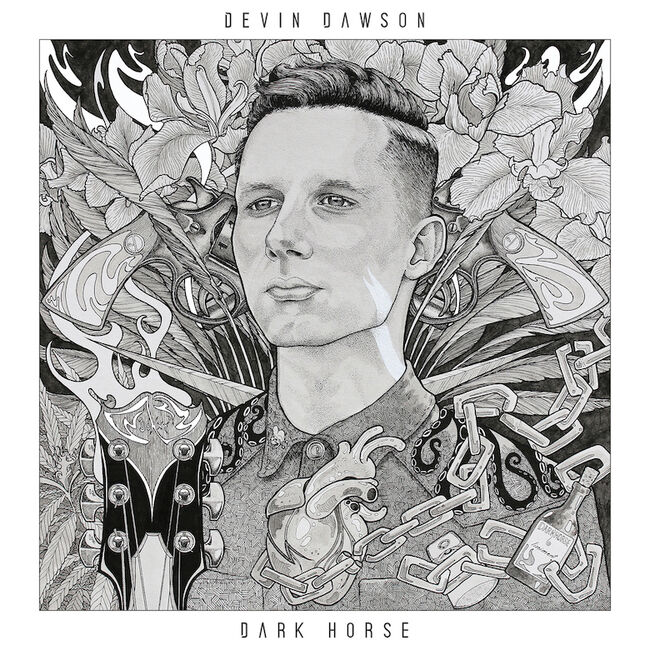 Devin wrote 700+ songs over a two-year timespan before he recorded Dark Horse, and from that he chose 30 to 50 tracks that was continuously whittled down to what are the final twelve songs for his album. He explains, "It's really just this kind of beautiful romantic process of just, the songs will raise their hands and they'll fight each other out and the ones that want to make it, the ones that deserve to be there will be left standing at the end, and they'll feel done and they'll feel right."
One of the most personal songs to Devin on Dark Horse is its title track. He says of the song, "'Dark Horse' is probably the most important and special song on this record to me. It actually came after the record was done, after the pressure was off, and I feel like I'd been trying to write a song about myself whole heartedly and unapologetically for a long time, but I didn't want it to sound forced or contrived, so that's why I had to let it come to me, and the best way to describe it is this is my honest truth in three and a half minutes."
Other themes of the record include love, love's complexities, and heartbreak, and the sounds are very diverse. "Prison" is a love song that taps into Devin's rock and roll roots, while "Symptoms" holds a darker, sexier tone. "I Don't Care Who Sees" was "inspired by a couple making out," and "Second To Last" is about "being the guy right before she finds the love of her life, but being OK with it."
"War Paint" is unique in that it turns Devin into the narrator of the story versus him singing in the first person. He says, "A lot of times I'll write first person songs about my life, or at least start from my truth and be inspired to write a story about it. But 'War Paint' was really just me as a narrator telling a story about a girl who got cheated on and she's out seeking revenge. She's out to get him back for doing her wrong. And that's not makeup that she's got on her face, its War Paint."
Devin says of his new album, "I like to describe it as a new Nashville sound. There's country in the way I let you in. There's soul in my melodies and voice. And there's a lot of rock in the energy – I'm not afraid to get heavy. I was like '[Jay], let's do whatever we want. Let's make it dark, let's make it sexy. Let's say things that people aren't saying right now.'"
He adds, "This is it. I ain't turning back."
Listen to some of Devin Dawson's Dark Horse songs below.