Miranda Lambert Becomes Most Awarded Artist In ACM History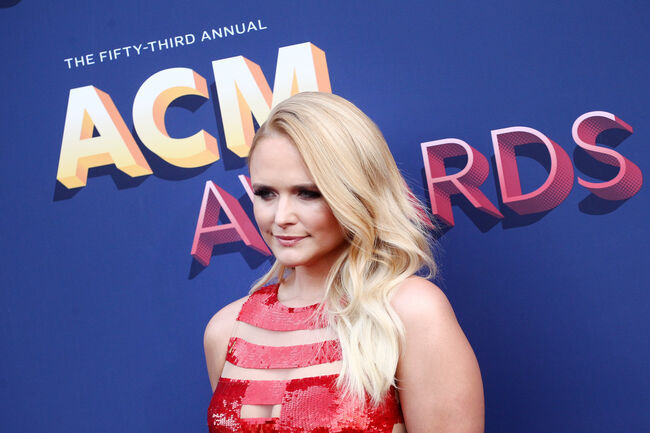 Tonight is a big night for country musicians, but Miranda Lambert is the real winner of the night. The country superstar just made history at the 2018 ACM Awards Sunday evening (April 15th). The star won the Song of the Year award for "Tin Man," and Female Artist of the year making this her 30th and 31st ACM win. Tonight she officially became the most-awarded artist in the history of this award show.
Before winning this title, Lambert was tied for the title of most-awarded performer at the ACM Awards with Brooks & Dunn who have 29 awards. Even though they were tied for most-awarded before tonight, Lambert always held the record for a 'solo act' with the greatest number of wins.
Before tonight, Lambert won Female Vocalist of the Year more times than any other artist. She also was the first person to win the ACM Merle Haggard Spirit Award in 2016. This was an award started in memory of iconic country artist: Merle Haggard. The award was to be presented to the country artist that "exemplifies the tenacity and uncompromising integrity of Haggard, creating iconic songs and delivering authentic performances."
Lambert's latest album, The Weight of These Wings, came out in November of 2016 noting a theme of heartbreak, moving on toward new love referencing her very public divorce from Blake Shelton in 2015.
Lambert was recently in the news for her breakup from Anderson East. The pair dated for two years. A source tells Us Weekly that "they have spent a lot of time apart, but potentially could end up back together," adding that "the love is still there." Rumors of a split between these two first began earlier this year when the two stopped posting photos together on social media. Then in Lambert's March concert in Knoxville she spoke on heartbreak before singing, her now award winning song "Tin Man." This lead many to believe she was addressing a break up with Anderson East. She said, "I make it my mission every single time I step on the stage that no matter what, no matter where I am, I want to make you feel everything you could possibly feel…. I can use [heartbreak] for my art or whatever. I like to write sad songs. I like to listen to sad songs, so I want to sing y'all one," she said before performing her hit "Tin Man."
Even with another heartbreak behind her, this is still a night to celebrate for Miranda Lambert. Who needs a man when you have 30 ACM Awards!
Photo: Getty Images