Thomas Rhett Is Teaching Brett Young About Marriage in the Spotlight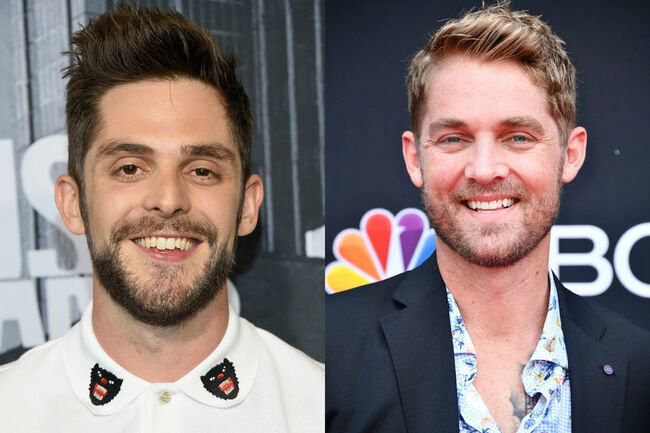 Brett Young and his fiancée Taylor Mills are preparing to navigate the waters of married life in the spotlight when they say "I do" this fall, and the budding country star's getting a little help from his friends.
The "Mercy" singer hit the road with Thomas Rhett this Spring as support for the Life Changes tour, and Rhett's wife Lauren, along with their two kids, joined the crew.
"We're learning a lot from them," Young told The Boot backstage at CMA Fest 2018, admiring his colleague's ability to balance work and personal life on the road.
"[Rhett's wife Lauren is] out there with the kids all the time, so we get to know them and watch them as a family," he explained. "It'd be really easy to see the way they come across on social media and think that's a facade, but it's not. It's real."
"Getting to watch it and be around it, not only do [we] have something to learn from, but it's really motivating and encouraging about what we have in store for our future," he continued.
Young and Mills got engaged in February, and as they plan their big day the 37-year-old is trying to decide what song he should sing to his bride.
"I have not decided what it will be. I'm not gonna do one of my existing songs. That would feel really self-indulgent," he admitted. "So, if I do something original, it'll be something I write between now and then. Unless I find something, you know, that's really special and personal to her and I that I can cover. But I have no idea what it's gonna be or what part of the day it's going to exist in yet. I haven't figured that out."
Photo: Getty Images