Kane Brown Stayed After A Show To Take Pictures With Fans Until 4 a.m.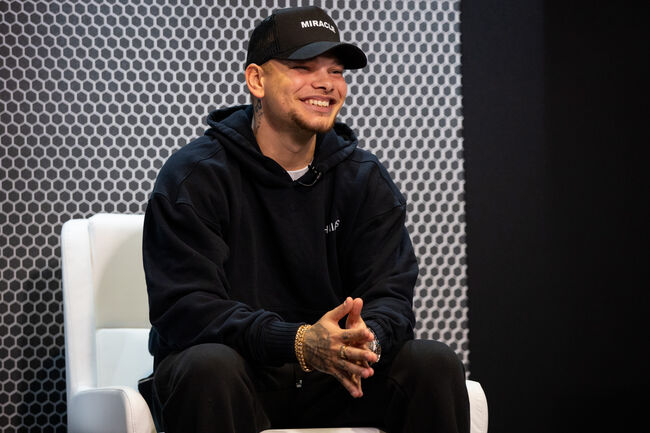 Kane Brown is a superstar now, but that wasn't always the case. When he was just starting his music career, he connected to his fans by constantly posting on social media and doing Facebook Live Streams. He came on The Bobby Bones Show and talked about his time performing at Bobby Bones and The Raging Idiots Million Dollar Show. Bones shared that during his performance fans were singing along to every word and Brown credits that to his time with fans on social media.
This appearance marks Brown's first appearance on the show, but it's not the first time he's interacted with it. Months ago, Brown was listening to the show and decided to call in on the normal line just as a listener would, but when he said his name was 'Kane Brown,' our phone screener Hillary, at the time, didn't believe him and hung up. After some verification, turned out it was him, and he commented on it during his visit saying that "he didn't want to be mean or force anything, so he just gave up."
Brown is on the road more than he's home at this point in his career, he noted that his wife Katelyn and their daughter Kingsley will be going on the road with him full time so Brown doesn't have to miss out on anything. He shared that when they're all out together in public, all the fans just want to see the baby. But when he's not on the road, Brown admitted he was a homebody and doesn't like to go anywhere. The one place he does like to go when he leaves the house is the theaters as he's a "huge movie nerd."
But whenever Brown is out and in public, he says he always says yes to taking pictures with fans. He shared that one time after a show he stayed for 4,000 people until 4 a.m. to meet every single fan and take a picture with them. Now that Brown is on an arena tour, they can't do such things and have had to up security. He just had a show out in Los Angeles and while he was there, he wrote with John Legend. He laughingly shared that there wasn't really a discussion about the song they were going to write, Legend already had the idea and they just did it in about an hour. They wrote the song "Last Time I Say I'm Sorry" and recorded it immediately. Now, they're just decided who will be releasing it and when.
The Bobby Bones Show got to know Brown a little better, asking him to say something was either 'FACT' or 'FICTION,' and here's what we found out to be true:
He can play guitar hero with his feet.
He almost joined the army, but they told him he couldn't because he had too many tattoos.
He played football in high school.
He met his wife Katelyn at Top Golf, and she didn't know who he was before a friend asked her to go to his show.
He is very particular about his feet - his wife would say he has very soft feet for a guy.
The alcohol Rupplemintz is the one thing on his rider for shows, besides that he doesn't ask for anything.
Watch Kane Brown perform his song "Homesick" acoustically on The Bobby Bones Show IGTV Channel.