Ed Sheeran Signed Kelsea Ballerini's Wall At Her House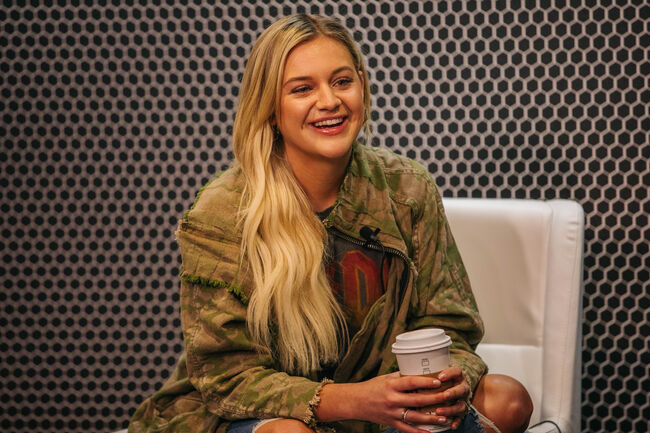 Kelsea Ballerini dropped her third album, self-titled with just her first name, Kelsea. The album still dropped amid the Coronavirus outbreak after Ballerini shared online that she still wanted to put it out. Ballerini said that she wouldn't be doing any of the in-person things she had planned for the album release, but she didn't want to change the release date. She continued by sharing that once things calm down, they would do the in-person events they planned for her new music.
On The Bobby Bones Show, Ballerini talked about naming the album with just her first name. She felt that this album was one of a lot of self-discovery and thought her fans should hear it "on a first name basis." One song on the album called "Love & Hate" was written with pop artist Ed Sheeran. Ballerini shared that she was in Los Angeles doing "The Voice," and had a day off. Instead of sleeping, she messaged songwriter Ross Copperman back in Nashville about some tracks. Copperman noted that Sheeran was in town and wanted to write with Ballerini. She took a red-eye back to Nashville just to write with Sheeran that day. The songwriting wasn't the only hit that came out of the day, Ballerini says they decided to go to her husband Morgan Evans' show that night, but before they could, Ballerini had to go back home to take her dog Dibs out. Sheeran and Copperman went back to Ballerini's house with her and took shots while she took Dibs out. While she was outside, Sheeran was getting buzzed from the shots and just signed Ballerini's wall.
Another song on the album is with Kenny Chesney called "Half Of A Hometown." Ballerini wrote the song with popular songwriters Nicolle Galyon, Shane McAnally, Ross Copperman, and Jimmy Robins. After they finished writing it, she decided to text it to Chesney, who is Ballerini's hometown hero. Chesney loved the song and checked to see if he could get on it with her, and the rest is history.
Ballerini confessed this is the first album she's written and worked with people outside of the country music industry on. That's why in one of the songs in the album, she wrote the line "Will Tennessee be mad at me?" But this isn't the first time Ballerini has collaborated or become friends with others outside of country music, one her good friends is pop artist Halsey, and the most random famous person she has in her phone contacts in Chelsea Handler. Plus, Ballerini has gotten advice from Taylor Swift on her career. Ballerini shared the advice from Swift who told her, "Don't worry about boundaries, be excited to talk about your music." Not only that, Swift also told Ballerini how to tell who's not using her for the fame saying, "It's the people you hang out with that don't always leave with a photo."
Outside of the serious talk, Ballerini talked with Bobby Bones on some random questions. She shared these fun tidbits of information on herself.
Likes to eat ranch on her steak.
First online username was Balletmania@aol.com.
The cringiest phase she went through was uploading vlogs about her life as a middle schooler.
When she lived in Knoxville, her most successful prank was on her ex's yard - she tater'ed it (put a bunch of instant mashed potatoes on the lawn and sprayed it with a hose).
Her marriage advice would be to go to therapy right away to get ahead of any potential situations.