Cole Swindell Shares Stories Behind Songs On New Album "All Of It"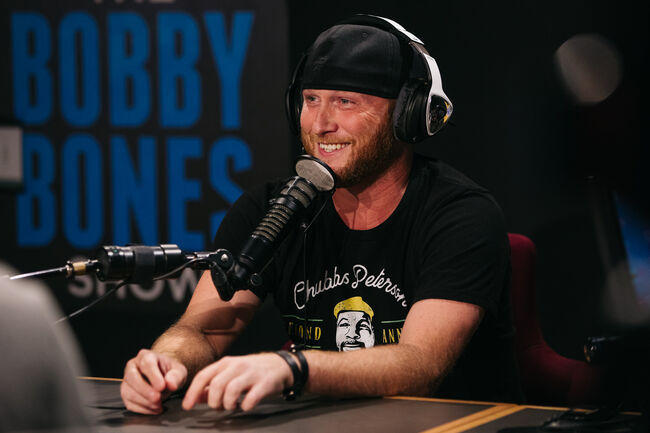 Cole Swindell stopped by the Bobby Bones Show as the release of his forthcoming third album hits. The new album All Of It features his single "Break Up In The End."
As an artist, Swindell has had four No. 1s on Billboard's Country Airplay Chart, seven Top 10 hits and at least three No. 1s as a co-writer with of Thomas Rhett's "Get Me Some of That," Luke Bryan's "Roller Coaster" and the behemoth Florida Georgia Line/Bryan collaboration, "This is How We Roll." On top of these accomplishments, Swindell has co-written several other songs in the country community.
Swindell co-wrote five of the 12 songs on his new album All Of It. Here's a full track listing:
"Love You Too Late" (Cole Swindell, Michael Carter, Brandon Kinney)
"All of It" (Bobby Pinson, Dallas Davidson, Kyle Fishman)
"Somebody's Been Drinkin'" (Brent Anderson, Lynn Hutton, Hunter Phelps)
"Sounded Good Last Night" (Michael Carter, Shane Minor, Chase McGill, Cole Taylor)
"Break Up In The End" (Jon Nite, Chase McGill, Jessie Jo Dillon)
"I'll Be Your Small Town" (Cole Swindell, Cole Taylor, Chase McGill)
"The Ones Who Got Me Here" (Cole Swindell, Ashley Gorley, Jesse Frasure)
"20 in a Chevy" (Cole Swindell, Ross Copperman, Jon Nite)
"Reason to Drink" (Cole Swindell, Michael Carter, Brandon Kinney)
"Her" (Matt Jenkins, Ashley Gorley, Chase McGill, Wade Kirby, Phil O'Donnell)
"Both Sides of The Mississippi" (Matt Jenkins, Ben Hayslip, J.T. Harding)
"Dad's Old Number" (Jessi Alexander, Chase McGill)
A snippet during the interview reveals a moment where Amy, co-host of the Bobby Bones Show, reveals she was surprised at Cole Swindell's age.
One of the songs that really with our listeners and show members was the song "Dad's Old Number." The track will particularly hit you with the emotions if you've lost a loved one.
Swindell broke down the song and why it may hit home with some of his fans.
Watch the full interview with Cole Swindell on the Bobby Bones Show below.

Bobby Bones
Want to know more about Bobby Bones? Get their official bio, social pages & articles on Bobby Bones!
Read more