Carrie Underwood Shares Advice She'd Give Her Younger Self, Details Album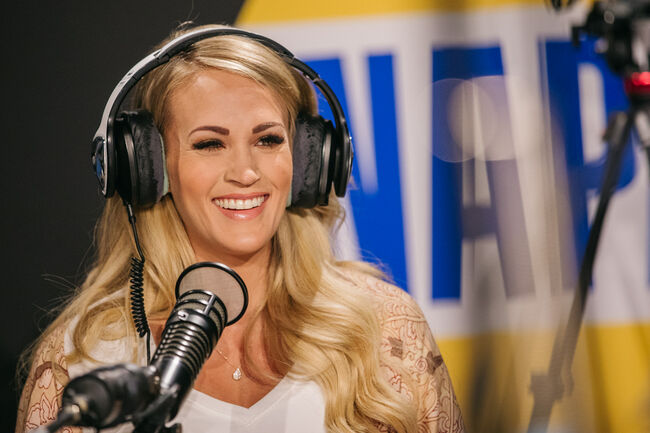 Carrie Underwood stopped by The Bobby Bones Show to celebrate the release of her sixth studio album Cry Pretty. Underwood co-produced the album and co-wrote nine of its 13 tracks, the most involved on an album to date.
While talking about her songs that have 'runs' (where you can hear Underwood's crazy vocal range), she says that she doesn't plan them when she is in the recording studio,
"I never actually know what's going to come out of my mouth."
Underwood detailed a few of the songs on her new album. When talking about "The Bullet," she shared that the song isn't meant for any particular situation, but hopes that the lyrics can help those who are dealing with a loss. "Ghosts On The Stereo" is meant to be about someone having a meltdown by themselves at home because of a breakup and it's their last night before pulling themselves together and moving on.
The life of a mother to one son and soon-to-be another child, Underwood said that her pre-show rituals have changed. Now she is saying "night nights" to her son Isiah. Her son doesn't know her as anything other than "mom," but she notes that he does tell her when she does good on stage.
If you're wondering about artists "treating themselves" after success, Underwood said that she bought herself a piano to treat herself a few years back, but revealed it doesn't ever get played. She also told us the advice that she'd give her 14-year-old self... to stop plucking her eyebrows.
When asked about her upcoming The Cry Pretty Tour 360, Underwood shared the tour will "in the round" meaning the stage will be in the middle of arenas. She is bringing with her upcoming artist Runaway June and Female Vocal Duo Maddie & Tae. Underwood said that she wanted talented people that she respected sharing the stage with her and it just so happens they were all female.
Watch the full interview with Carrie Underwood on The Bobby Bones Show!

Bobby Bones
Want to know more about Bobby Bones? Get their official bio, social pages & articles on Bobby Bones!
Read more