Tim McGraw's Favorite Song To Perform Live is "Red Ragtop"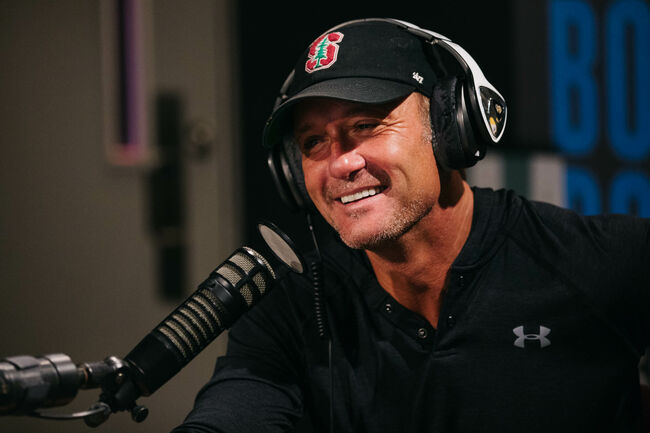 Tim McGraw sparked some questions when he wiped his social media platforms clean earlier this week. Then following up the social media wipe, McGraw posted a phone number asking his fans to text him. That text would show fans that new music and more was headed their way.
McGraw stopped by the Bobby Bones Show to explain more about the two new songs he dropped as well as what else is to come. McGraw was excited to share "Neon Church" because it has some angst to it and the songwriting behind it was inspired by Prince, Journey, and The Eagles. The second song he dropped called "Thought About You" was the perfect accompaniment to "Neon Church" because they're opposing songs and the two of them together make the perfect single.
He also shared that his time of playing honky tonks helped him develop his art throughout his career. Seeing life pass in front of him and things happening to people drove him to write songs about important moments in peoples' lives. Also behind the honest lyrics, McGraw puts out is his wife Faith Hill. She pushes him to always deliver songs that are honest and will help him with new music by critiquing the message. McGraw also said that coming out of the Soul 2 Soul tour with his wife, he thinks he came out a better vocalist because of how great of a singer Hill is.
While on this tour, McGraw says that he and Hill would warm up together by figuring out who remembers old songs better. They also shared that remembering the lyrics to their older songs isn't really an issue, but if they happen to, their trick is just to hold the microphone to the crowd and let them finish the lyrics.
Noting his old music, He shared that his favorite song to play live and record in the studio was "Red Ragtop." The song was written when McGraw camped out in New York with some other songwriting friends. Recently, McGraw and his wife were asked to guest appear at Taylor Swift's tour stop in Nashville, Tennessee to sing the song she recorded about him "Tim McGraw." McGraw says it was weird to sing a song about himself, but Swift is one of his favorites and he wanted to do it.
McGraw also spoke on his recording a Spanish version of his song "Humble and Kind." He said it wasn't easy and doesn't speak any Spanish, but he wanted to translate the story behind it with humility and kindness. He thinks the message of the song transcends languages.
No current release date for the upcoming album, that McGraw is sharing, but he did share that the new music makes him think of where and how he grew up.

Bobby Bones
Want to know more about Bobby Bones? Get their official bio, social pages & articles on Bobby Bones!
Read more