Brad Paisley Hopes To Host The CMA Awards For 25+ More Years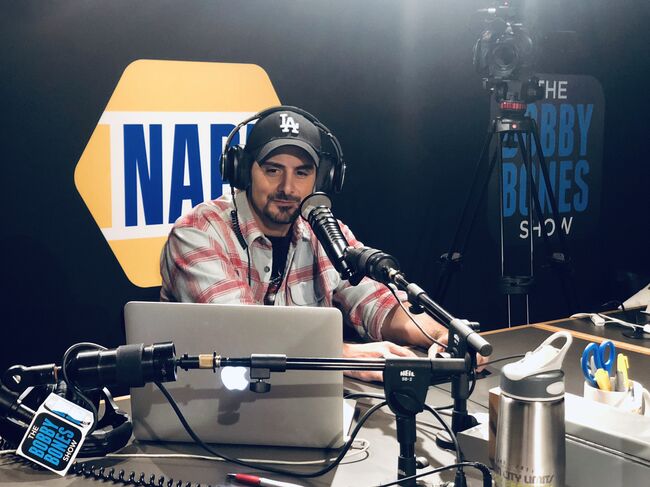 Brad Paisley is set to host the 52nd Annual CMA Awards tonight (November 14) with Carrie Underwood. On top of that, he just released the lead single "Bucked Off" off of his upcoming new album and will premiere it on the awards show. Paisley always wanted to be like George Strait and Garth Books, so this single is a retro throwback to the golden age of the 80s/90s. The title of the song "Bucked Off" is meant to be a metaphor about getting dumped.
Paisley isn't up for any awards at this year's show, but he has won 14 CMAs in his career including Entertainer of the Year. He believes it's an honor to be nominated and he wants to win, but he isn't one who cares about the physical trophy. He's lost one of his three Grammys and he only has a few of all the awards' trophies in his house, the rest are with his parents. One piece of advice he did share with The Bobby Bones Show though for new artists is that you don't want to frown. He remembered,
"When Faith Hill pretended to be mad when Carrie Underwood won, it turned into a huge deal because some people who weren't in the know took it seriously."
Hosting the CMA Awards won't stop anytime soon for Paisley though if he has any say in it. He shares with Bobby Bones that he and Underwood are getting better every year and hopes to do it for 25 more years. They've gotten great at their time together with their longest opening monologue lasting 9 minutes. The two of them aren't afraid to cut a joke last minute either if they feel it doesn't fit with everything.
The other times you may see Paisley on your television screen is the Nationwide commercials with Payton Manning. Paisley said that Manning is great and even smarter than you think he is, he thinks Manning could be a comedian, but he also thinks at levels above everyone else.

Bobby Bones
Want to know more about Bobby Bones? Get their official bio, social pages & articles on Bobby Bones!
Read more