There is Currently a Petition to Kick Bobby Off DWTS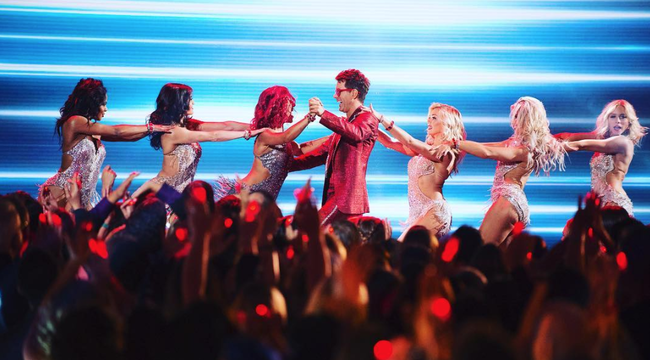 Bobby Bones is currently competing on Season 27 of Dancing With The Stars. He and his partner Sharna Burgess have made it through each round of competition and are officially in the finals. On November 19th, they will be officially battling it out with 3 other couples for the mirror ball trophy.
Bones and Burgess have a huge shot at winning the whole thing, something they wouldn't have expected in the beginning. But fans of the DWTS show, aren't having Bones and Burgess being in the finals. Some of the controversy comes from Juan Pablo Di Pace being eliminated after perfect scores, other hate is being spewed simply because Bones isn't the best dancer on the show.
There is so much madness over these few things that someone even went to the extent of creating a petition to get Bones kicked off DWTS. They currently have 90 signatures. The petition reads,
Hello, I have been a viewer of Dancing with the Stars for many years. But, each year there are various unjust eliminations. This petition is to change the voting algorithm to be more in favour of the judges' scores or at least give the judges an opportunity to save standouts. With the current algorithm there is much more room for voters to determine the winner, regardless of the scores. This show should have some audience input, but at the end of the day it is a dancing contest. Recently, the frontrunner of season 27 Juan Pablo was eliminated in the semifinals. He had been at the top of the leaderboard the whole night and had consistently been at the top. Bobby Bones, someone who is loveable yet has been consistently in the bottom, was not even in jeopardy. Yes, this show is about transformation and there should be room for improvement. However, by the semifinals it should be more about dancing than personality and popularity, as you are almost at the end. In order for this show to continue to thrive change must come. Some things should not solely be popularity contests and this is one of them. So, alter the algorithm for the semi-finals and finals or for the whole show. At least make judges scores have as much as an impact as votes. If that is not possible provide a save option near the end for standouts. Thank You.
Listen below as Bones addresses this and tries to share that he shouldn't be the one people hate.

Bobby Bones
Want to know more about Bobby Bones? Get their official bio, social pages & articles on Bobby Bones!
Read more