Tim Tebow Shares Those That Boo Him, Also Ask For Selfies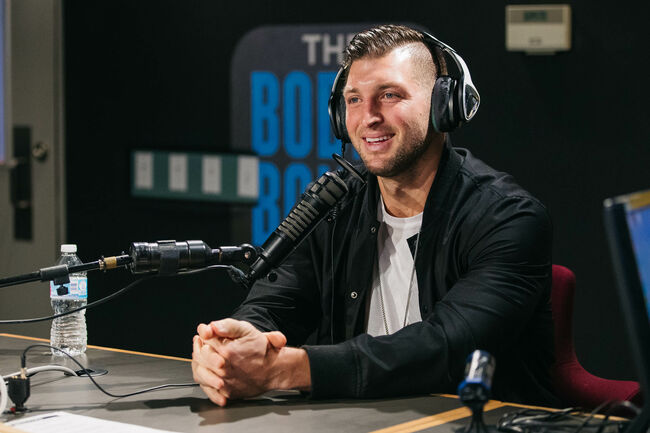 The Bobby Bones Show brought in Tim Tebow, a Heisman Trophy winner, NFL quartback, SEC announcer, inspirational speaker and author. Aside from all of his official titles, he is also known as one of the most positive and inspirational influencers out there.
Tebow shared during his appearance that while he does always feel the pressure to be kind and welcoming to people of all walks of life due to his exposure, he says that even without the spotlight he would always be kind because doing so could be a huge difference for another person.
Tebow is hot on the book tour for his latest book This Is The Day: Reclaim Your Dream. Ignite Your Passion. Live Your Purpose. Behind this book is a lot of things Tebow says he's wanted to do for awhile. He believes that there are a lot of "one dayers" out there and this book hopefully gets to them to finally say, "No. This is the day I do that." Whatever that may be to people. With that, in the book and in his life he wants to implement his faith into every single thing he does to get to people on an entirely different level.
Bobby Bones mentioned that Tebow is one of those celebrities that is polarizing. He is either loved or hated, there is very little in between. Tebow didn't agree or disagree, but noted that it isn't always easy and you have to be comfortable by not being comfortable. He noted that people will boo him while he's playing baseball and often times the same people who boo him, also ask him for selfies later.
On the subject of baseball, Tebow turned down a lot of high paying opportunities to pursue baseball instead. He shared the level of difficulty in getting even towards baseball, even to the extent that he had to convince his own managers and team that he could do it. Although, football was a huge highlight of Tebow's life - baseball was actually his first love and that started at 4 -years-old. He feels like he's making some great strides but with a broken ankle and hand in the last year, it hasn't been an easy road. But he left us saying,
"It's better to fail than regret not trying."

Bobby Bones
Want to know more about Bobby Bones? Get their official bio, social pages & articles on Bobby Bones!
Read more