Dierks Bentley Lost An Engine While Flying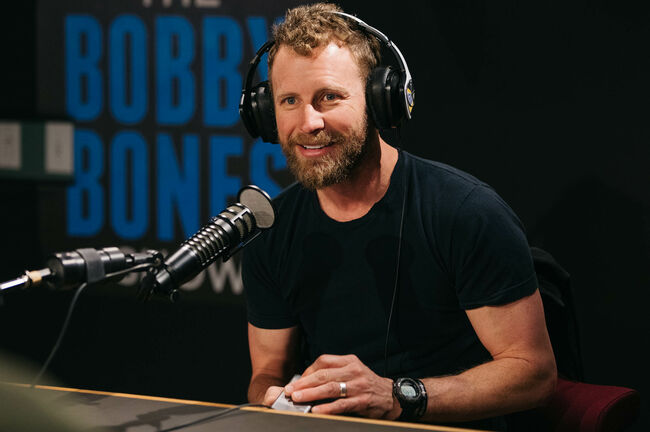 Dierks Bentley has been off the grid besides performing on his Burning Man Tour and he likes it that way. He stopped by The Bobby Bones Show to talk about what he's been up to and how his flip phone situation is currently holding up.
Bentley shared that he struggles like the rest of the world with using his iPhone and depending on it way too much for many things. He decided to switch over to a flip phone many months ago and is still going strong. The only few people on his favorites are his wife, tour manager and children. That doesn't mean he is 'off' social media though, his brand is still putting out content for him via his social media accounts (@DierksBentley).
As far as what to expect next musically from Bentley, his song "Living" is the new single off his current record. He shares that the song is the corner stone of the whole last record he put out. The song came from him 'not living' while on the road. He was constantly blowing through the weekends without doing anything with his days and this got to him enough to write the song and now become the next single.
When Bentley isn't touring and playing his massive hits to fans, he's flying his plane to and from many of the show locations. Flying is one of Bentley's many passions and shares that it truly isn't that difficult, anyone can study and become a pilot. It's not all pretty though, there was one time when Bentley lost an engine and had to use his backup. The flying though, is to credit for keeping Bentley around the music scene. He shared that without flying, he wouldn't do music.
From Elvis Presley tributes to CMA Festival, Bentley confessed that he doesn't like to watch himself back on the television, it makes him cringe. However, for 10 years, he would listen to recordings of his shows right after playing them to use as 'game tape' to make himself a better performer.
Watch the full interview with Dierks Bentley on The Bobby Bones Show below.

Bobby Bones
Want to know more about Bobby Bones? Get their official bio, social pages & articles on Bobby Bones!
Read more