Maren Morris Loves The Writing Vibe With Her Husband Ryan Hurd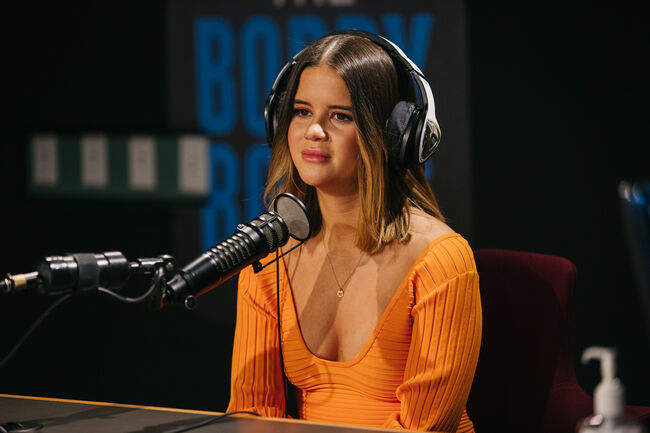 The much anticipated second album from Maren Morris has finally arrived. Morris' album, teased as 'MM2,' is called Girl with collaborations that feature Brothers Osborne and Brandi Carlile, as well as 14 brand new songs.
Morris stopped by The Bobby Bones Show to talk about her new record, which also coincidentally dropped on International Women's Day. She shared that ever since her song "The Middle" with Zedd, she feels like people have been more aware of her and her voice. Due to that, her second album feels like there's more pressure making this album release day scarier than others.
She often writes with her husband and fellow artist Ryan Hurd. She confessed that they have a great vibe writing together, when they go into a session together they don't say who it's going to be for ahead of time. They go in together just wanting to write a good song. The song "All My Favorite People" that features Brothers Osborne, was written with Hurd and Morris says it's 'you can sit with us themed' due to it being a bit 'trashy' and 'inclusive.' Her song "The Bones" off the album was her family and friends' favorite one and constantly the one asking to be replayed. Morris wrote the song "A Song For Everything" while she was on the road with Sam Hunt with well-known songwriter Laura Veltz, who also sang at Morris and Hurd's wedding.
Besides dropping her new album, Morris already had a big last few months. She performed on The Ellen Show, Jimmy Fallon and at The GRAMMYs with Dolly Parton and Miley Cyrus. She confessed that when they go to read the cards at shows for awards she is nominated for, she always feels like she has to pee. But besides that, she shared too that she 'feels like she's getting the loser face down.'
During the interview, Morris also played a game of this or that choosing Cinnamon Toast Crunch over Fruity Pebbles when it comes to cereal, calling it stuffing over dressing, and "The Office" TV show over "Friends." Watch the full interview on The Bobby Bones Show below!

Bobby Bones
Want to know more about Bobby Bones? Get their official bio, social pages & articles on Bobby Bones!
Read more