Dustin Lynch Is A Few Songs Away From Releasing A New Album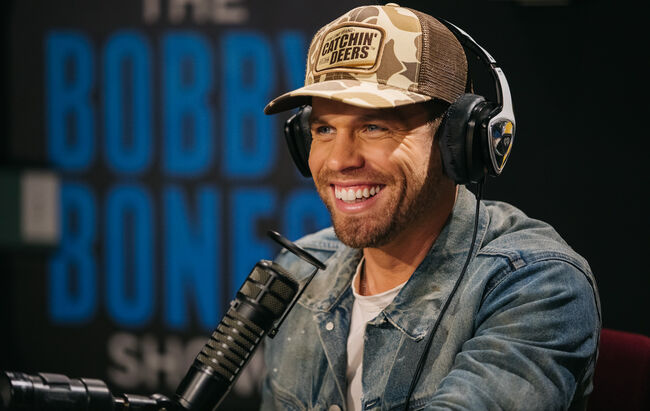 Dustin Lynch is a man of many talents! The country music star stopped by The Bobby Bones Show to talk everything from chopping wood to dating. Let's start with Dustin's Instagram; Bobby called Dustin out for posting a shirtless picture to his Instagram because he's clearly attractive and the girls will love it.
Dustin says he's actually pretty self-conscious and he sticks to posting photos of the things he's doing in his life, he doesn't pay attention to things like that. Recently Dustin posted a photo of him chopping wood to which Raymundo said he was doing it all wrong. Raymundo says he should have put the wood on the ground before he chopped it because the saw could kick back and hurt him!
Aside from chopping wood and posting shirtless photos, Dustin's been busy writing songs and recording his next album. He recently released three songs titled: Ridin' Roads, Little Town Livin', and Red Dirt, Blue Eyes. He says Ridin' Roads took him months to write. What was so hard is he sat on the melody for so long but couldn't find the right words to fit. Dustin says it's all about writing the melody first then the words will come.
Red Dirt, Blue Eyes he says is about being on the open road in the middle of nowhere with the girl you're "digging". Bobby jokes that he doesn't take dates out in the middle of nowhere for the fear of getting lost. Dustin swears the best way to clear your head and adventure with your significant other is to wind down backroads not knowing where you're going.
Speaking of being with a significant other, he has been seeing a girl lately who he is very fond of. However, he hasn't gotten out much to see friends since the the New Year. He says he doesn't even know how to have a conversation about hanging out with friends anymore. Bobby relates to not getting out much and being busy with other things. He also says he thinks maybe he's just been going through changes lately. One of those changes being that Bobby is pretty emotional lately; he cries often. Dustin says he's a huge cryer. He cries at movies, he cries at happy moments, sad moments, you name it. He says he gets choked up when talking about getting number one song with Good Girl. Bobby compliments Dustin by calling him the Oprah of country music!
Although Dustin's released a few songs, he says he's still about two or three songs away from a complete album that he's happy about sharing. He say's he looks forward to writing more songs like Cowboys and Angels. He hasn't yet said when he will be releasing his next album but he is very excited to be going on tour with Thomas Rhett this summer!
Check out the full interview where Bobby and Dustin play a game of favorites where Dustin answers a series of questions on what his favorite things are currently!

Bobby Bones
Want to know more about Bobby Bones? Get their official bio, social pages & articles on Bobby Bones!
Read more