Luke Combs Wrote "Beautiful Crazy" For His Fiancé Before They Were Dating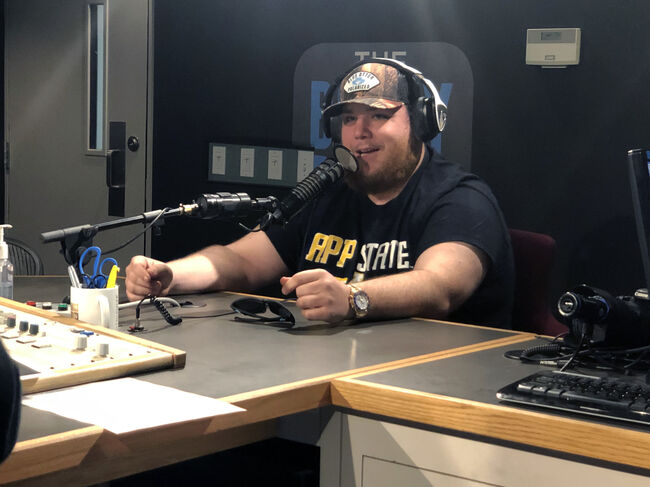 The Bobby Bones Show welcomed Luke Combs to the show today. Luke came straight from a fitting for the ACM Awards; Bobby asked how it went and Luke says he wants to look classy. Bobby pointed out that Luke is wearing a Rolex so he's already classy; Luke says wearing this Rolex means a lot to him. He jokes how he wasn't able to afford Olive Garden growing up so being able to afford a Rolex is a huge deal. He actually bought the watch after he saw his grandfather work his whole life to be able to afford a Rolex so he decided to buy one before his show in New York. When he went into the store to buy it the salespeople actually thought he was looking for the bathroom; they didn't think he could afford anything in the store. He said they realized who he was after he said he was playing a show at Madison Square Garden in a few hours!
Speaking of shows, Luke announced more tour dates for his "Beer Never Broke My Heart Tour". Bobby loves the posters for this tour and how they're all different. Tickets go on sale Friday, April 5th! Luke is very excited to continue performing, "Beautiful Crazy", he actually wrote the song for his fiancé before the two even started dating. He remembers meeting her and instantly feeling inspired; he even played the song for her two days later. Amy says Luke has somehow found a way to call a woman 'crazy' but in an endearing way.
Bobby and Luke talk current favorites and Bobby says Luke needs to come on his Bobbycast ASAP! Listen to the full interview to hear more from the country star.

Bobby Bones
Want to know more about Bobby Bones? Get their official bio, social pages & articles on Bobby Bones!
Read more