Rodney Atkins Feels Connected To Last Name Because Of Adoption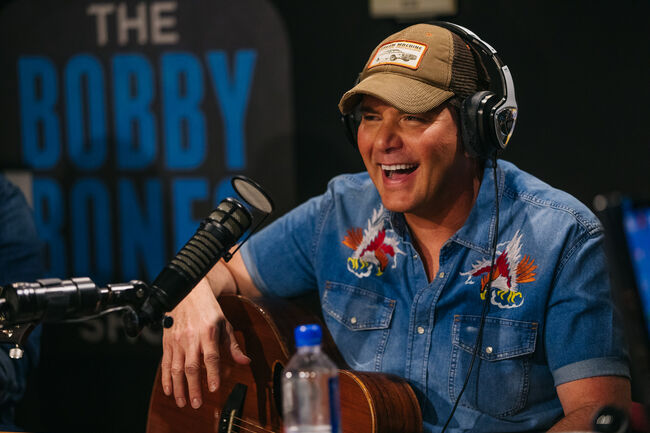 Rodney Atkins has been busy the last 4 years writing and producing his latest album which has just been released, "Caught Up In The Country". Atkins said this album took him so long to finish because he didn't want to settle for just anything. He wanted to create songs that will be around for a long time, that were meaningful.
Bobby played a bit of Atkins' older songs, one of which is "Watching You". Atkins said he wrote this song about his son who is now 17 years old. This song for him means something special because he will always see his son as his "little buckaroo". Atkins broke out his guitar and sang "Watching You" for the Bobby Bones Show.
Atkins has a name that is very similar to quite a few artists. Bobby asked if he ever considered changing his name to set himself apart. Atkins said since he was adopted a few times as a child he feels connected to his last name and never wanted to change it. A few record labels suggested changing his name but Atkins said he is lucky to have found the family he did and for that he wanted to keep his name.
"Caught Up In The Country" is full of songs that Atkins wrote about his life. One of those songs is "My Life" which he wrote about his love for his wife, Rose. Atkins shared with Bobby that when him and his wife knew they were the one for each other they started having talks about what they wanted out of life. His wife said she wanted a love like her grandparents had. Atkins said he didn't understand what that meant until he met her grandparents and watched the kind of selfless and endless love they had for each other.
This song was inspired originally by Rose's grandmother. Atkins said in her final days she couldn't speak she could only write handwritten notes. Her final note was written to her husband, Rose's grandfather, which read "I loved my life." Atkins expressed that he knew immediately he had to write a song that captured how powerful that moment and that note was.
Listen to the full interview with Rodney Atkins on The Bobby Bones Show below, plus see his full performance of "Take A Back Road" here.

Bobby Bones
Want to know more about Bobby Bones? Get their official bio, social pages & articles on Bobby Bones!
Read more