Aaron Watson Wrote "Kiss That Girl Goodbye" After Fan Cries At Meet & Greet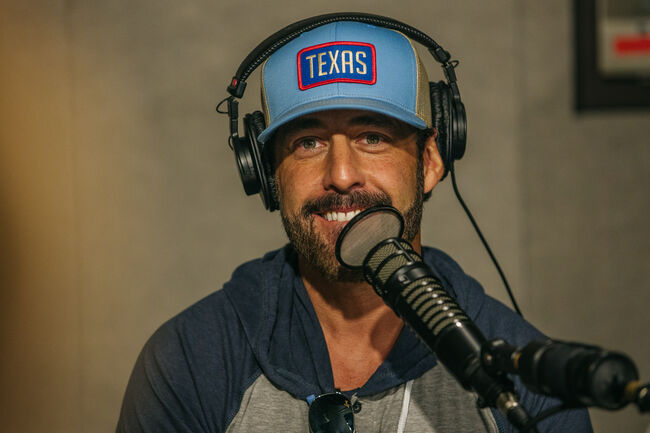 Singer/songwriter Aaron Watson joined The Bobby Bones Show in studio. When Aaron walked in Bobby complimented him on his beard saying he looked good. Watson said it's a funny story; he wanted to shave it before coming on the show, but couldn't decide if he should. He asked his daughter what he should do and she said to keep it because it makes him look tougher and more like a cowboy.
Speaking of Watson's children, his daughter gave him the sweetest gift for Father's Day, but turns out it was meant more for her. She gave him a coupon book full of things he gets to do with her. For example, one of the coupons says he gets to go swimming with her for 3 hours. Another says he gets to take her shopping to buy toys.
He joked that he loves his daughter more than he loves his sons; his daughter actually picked his new single. Watson's new single, "Kiss That Girl Goodbye," was written about a girl he saw crying in his merch line. Watson said he noticed after his show a girl was crying with mascara running down her face waiting in line for merch. When he asked if his show was so terrible she cried the girl responded that her boyfriend just broke up with her during the concert. He told her not to waste her life on a guy who isn't worth the time. That's where the inspiration for his new single came from.
Watson wrote every single song off his new album "Red Bandana." Bobby said this is the first he's heard of an artist writing every single song on their own without help. Watson said it took him a long time to get to this point in his career, but he's proud of how every song seems to fade into the next song; the album just flows. Some of the sounds he included in this album are the sound of the train by his ranch and the sound of his grandmothers wind chimes.
One of his biggest musical influences is his dad. Watson said his dad is a disabled veteran and growing up he was a custodian. He said this story is one of the most defining moments in his life. He was about 11 or 12 and all of his buddies were going swimming and he really wanted to go with his friends. But his dad said he really needed his help cleaning today. Watson said he was acting like a typical bratty kid throwing a fit. The two were at a local church cleaning the toilets; he remembered that he was wearing big rubber gloves while scrubbing toilets saying how much he hated doing it. His dad stopped and looked at him and said "Do you think when I was your age I wanted to grow up to be a custodian?" He then explained how he was drafted and got injured and now this is his life; this is his job that can afford the lives of his family. Watson ended up writing a song on this album about this whole experience called "Country Radio" and he got to sing it at the Grand Ole Opry to his mom!
Watch the full interview with Aaron Watson where he tells Bobby more stories that inspired the songs on his current album, "Red Bandanna."

Bobby Bones
Want to know more about Bobby Bones? Get their official bio, social pages & articles on Bobby Bones!
Read more