One Of The Runaway June Girls Is No Stranger To Life On A Bus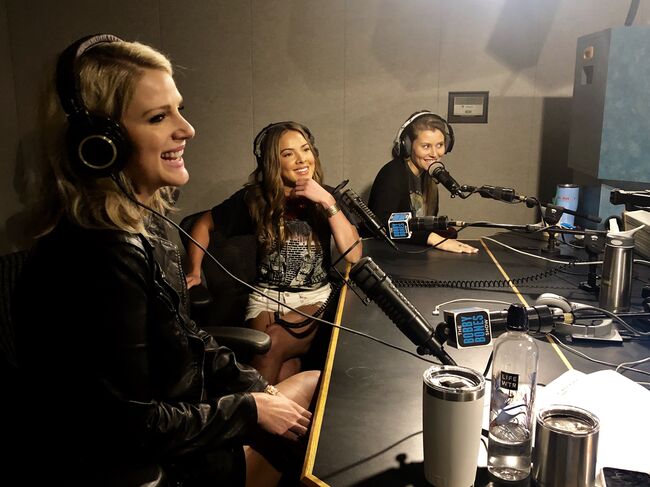 Runaway June stopped by the Bobby Bones Show to talk about the release of their first album, "Blue Roses". The trio, Naomi Cooke, Hannah Mulholland, and Jennifer Wayne, were all introduced in a writer's room in Nashville. They started writing together and felt there was an instant chemistry; so they decided to form a band. Once they decided to try out the band life they played a song for their record label who offered them a deal on the spot which meant they hit the road pretty much right away. Naomi said they kind of came together as a band while on the road.
Speaking of the road, Naomi is no stranger to living out of a bus and constantly traveling. She actually spent much of her childhood living on a bus. Her parents are "hippies", as she described, and for most of her formative years she lived in a bus with her two parents and 7 siblings. They lived in national parks across the country and were always on the move. She said this helped her deal with living in discomfort and she actually learned to play guitar since there wasn't much else to do on the bus.
Naomi sings the lead vocals, Jennifer also sings and plays guitar, while Hannah plays the mandolin. Hannah said she loves playing random instruments and this is one she learned a little later on in life. She thinks it's funny how this instrument became one that she plays on stage the most.
The trio actually performed on stage at the CMA Fest where Bobby was hosting. The 4 of them ran into each other while Runaway June was practicing and warming up to sing the National Anthem. They performed the National Anthem at Nissan Stadium and they all agree it was one of the greatest experiences.
Listen to the FULL interview to see Runaway June play a game of "Bobby Feud", Bobby's take on Family feud, and be sure to listen to the bands new album, "Blue Roses" available now!

Bobby Bones
Want to know more about Bobby Bones? Get their official bio, social pages & articles on Bobby Bones!
Read more